Good morning everyone! Hope you are all well!
It is still spring so come rain or shine we can still get out and enjoy the fresh air, connect with nature and - despite this unusual time - notice life continuing. I was really excited to see a heron on my walk by the canal yesterday and Canadian geese sitting on nests!
Don't forget to send in your marching videos for our EYFS video! Thank you if you have already sent one.
Please send them to Reception@st-johns-keele.staffs.sch.uk by 5.00pm today!
Challenge of the day!
Draw your self portrait and describe what you look like.
(Remember a self portrait is just a picture of your face!)
Daily Phonics lesson:
It is great that you are keeping going with the Daily Phonics lesson. It is so important that you don't forget the 45 phonemes that you have learnt and that you remember all the Phase 2,3 and 4 Tricky Words!
If you feel your child needs more practise with Phase 4 please use their Home Learning book and the previous lessons on our class page. Do not feel that you have to rush them on to the next phase!!
Remember - Practise makes Better!!
1. Work out to the letter sounds! This is a great bit of brain gym from Jack Hartmann! - https://uk.video.search.yahoo.com/search/video?fr=mcafee&p=youtube+jack+hartmann+work+out+to+the+letters#id=1&vid=78b57cb946f310df04eb52a8a1f5f837&action=click
2. Please help your child to keep practising the Phase 5 tricky words throughout the week. You could play a pairs game with them. Write them out twice on paper. Put them face down and then turn 2 over to see if they match!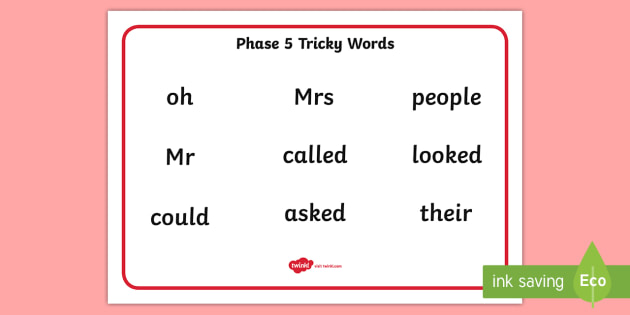 3. Please work through the following powerpoint with your child. Please don't feel they should know all the words - just encourage and help them when they need it! They should be able to use their phonics to read a lot of the story but will need you to help with the words in purple. Just reading the story together is also fine.
4. You say this sentence, sound out each word and your child writes it down. Watch out for the tricky words - His tie was in the broth!
Remember - Start your sentence with a capital letter
Leave finger spaces
End your sentence with a full stop.
Read your sentence
Well done!
Mathematics
Let's have a go at measuring using non-standard units - in this case using books!!
How many books long?
You need about 10 or 11 picture books (roughly the same length), and felt-tip pen and paper.
What to do
o Ask your child to lie down.
o Place books along the length of your child. The books must touch but not
overlap.
o How many books make the same length as the child?
o Write the length of your child in books.
Amit is 6 books long.

o Now you lie on the floor and ask your child to lay books along your length.
The books must touch but they must not overlap.
o When they have matched your length with picture books, ask them to
count these very carefully.
o Get up without disturbing the books and count with them to check. Write
your length in books.
Mum is 10 books long.
Why does mum measure more books than you?
Challenge - How many books long is your kitchen table? Bed? Sofa?
You could also use other objects as non-standard units e.g. lego, shoes (same size) etc.