Good morning everyone! Hope you are all well!
It has not been as sunny, but still dry enough to go and hunt out some minibeasts in the garden or under a pot. Don't forget to send in your marching videos for our EYFS video! Send them to Reception@st-johns-keele.staffs.sch.uk
Challenge of the day!
Can you move like a minibeast? Slide like a snail! Flutter like a butterfly! March like an ant! Zoom like a fly! Wriggle like a caterpillar!
Daily Phonics lesson:
It is great that you are keeping going with the Daily Phonics lesson. It is so important that you don't forget the 45 phonemes that you have learnt and that you remember the Tricky Words
Remember - Practise makes Better!!
1. Sing Who let the letters out song - Youtube (or any other!)
Sing vowel song (ask your child to teach it to you!)
Practise reading the phonemes/digraphs/trigraphs in your Home Learning Book.
2. Today we will look at all the Phase 5 tricky words. Please help your child to keep practising them throughout the week. You could write them on post-it notes and stick them around the house!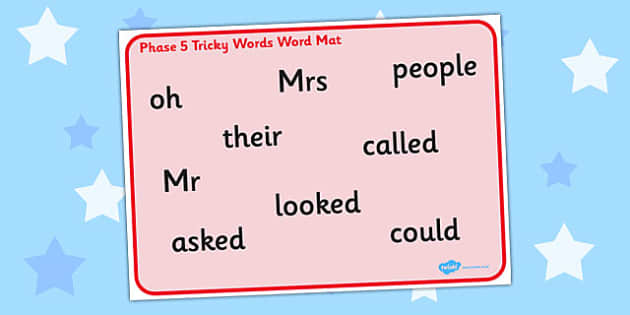 3. As well as using the Twinkl program we will be asking Ash in Espresso to help us with our Phase 5 phonics. The children have used this program in class so will recognise it. Today's new sound is 'ie' says 'igh' Click on the following link to look at the 'ie' sound - https://central.espresso.co.uk/espresso/primary_uk/subject/module/video/item92016/gradef/module63425/index.html
Sort these words ie/igh ;- lie, night, spied, pie, high, right, fried, sigh,
4. You say this sentence, sound out each word and your child writes it down. Watch out for the tricky words - He put the pie on a high shelf.
Remember - Start your sentence with a capital letter
Leave finger spaces
End your sentence with a full stop.
Read your sentence
Well done!
Mathematics
Today we are going to learn about odd and even numbers. Watch this Espresso video and then have a go yourself with some of your own socks!!
https://central.espresso.co.uk/espresso/primary_uk/subject/module/video/item809397/grade1/module784709/index.html?source=search-all-all-all-all&source-keywords=odd%20and%20even%20numbers
Counting practice
Whisper – Shout counting! - Now that we have an idea about odd and even numbers
have a go at counting them. Use a number line to help you.

o Count up to 20 by whispering the odd numbers and shouting (not too loudly!) the even numbers.
o One (whisper), two (shout), three (whisper), four (shout), five (whisper), six (shout), etc.
o How far can you get?
o Now ask your child whether they think 'six' will be shouted or whispered. What about 'nine'?
Predicting whether a number will be shouted or whispered is quite hard.
Challenge
Can you ount on from 20 in the same way?

The rainbow has become a symbol of hope during this current time. Watch this bible story about Noah's Ark to see why.
https://www.youtube.com/watch?v=qzYjy6lhRag&feature=youtu.be
Draw your own picture of the ark, the flood and the rainbow.